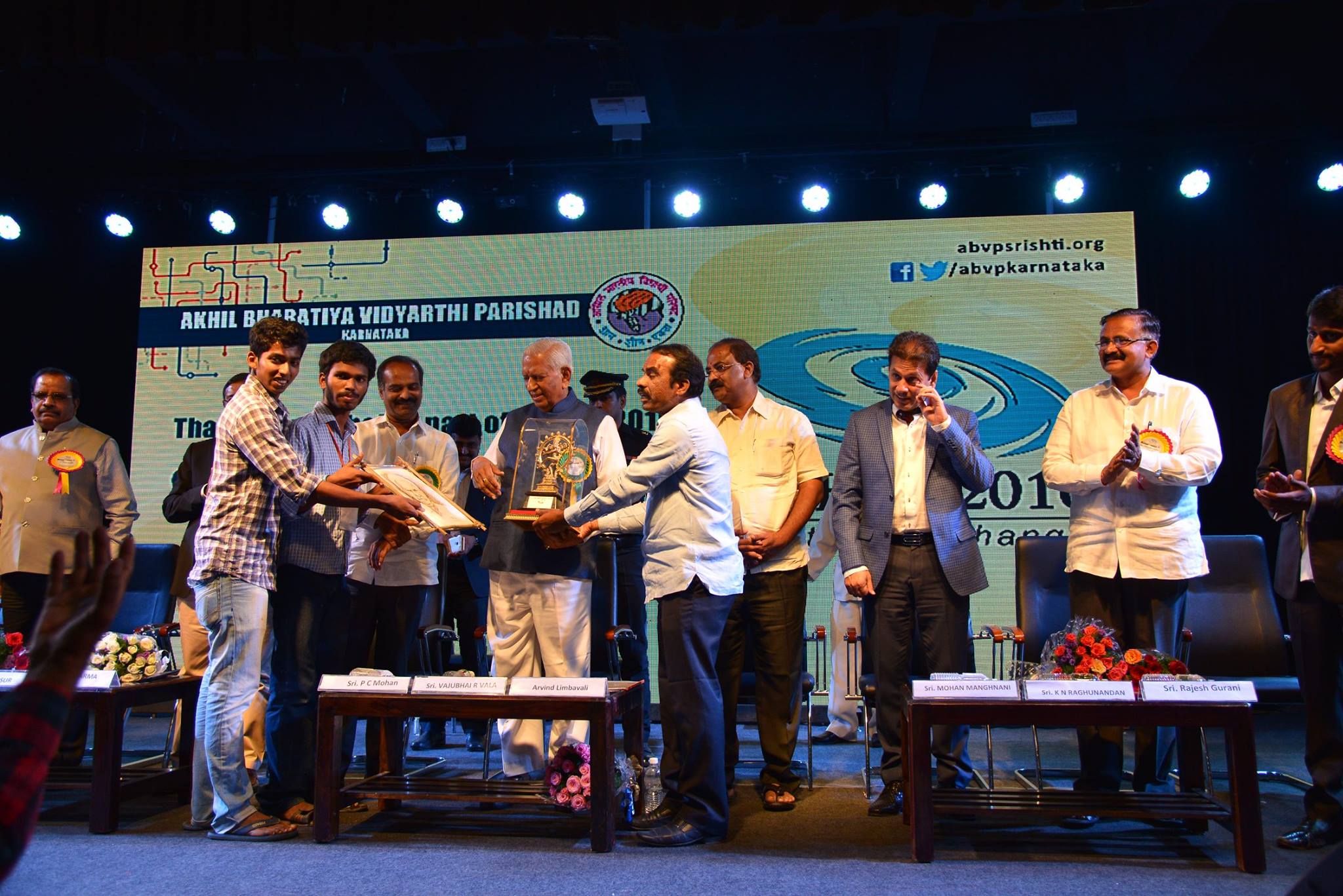 The 10th State Level Project Exhibition and Competition for Engineering, "Srishti – 2015" and 1st State Level Art Exhibition "ART Matters" organised by Akhil Bharatiya Vidyarthi Parishad from May 1st  to 3rd  2015 at New Horizon College of Engineering, Marathhalli, Bengaluru was a grand success.
The three day event was inaugurated on 1st May by Dr. Omkar Rai, Director General, and STPI. He appreciated the efforts of ABVP in bringing the final projects out of academic wall and giving the students of Karnataka a unique platform to showcase their talent. Shri. Mohan Maghnani, Chairman, New Horizon group of Institution, and Shri. Arvind Limbavali, Former Higher Education Minister and MLA graced the session as Guest of Honour. They suggested the youths to realise a dream through sincerity and honesty. Sri Arvind Limbavali Stressed on the importance and Make in India programme.
282 Projects were exhibited out of 312 shortlisted from 1250 entries. The students also presented 200 technical papers and Idea impact papers, which were shortlisted from 250 entries. The students also attended the Seminars that were organised parallel with the event. Dr. Vamana Acharya, Chairman, KSPCB delivered a talk on Importance of Waste Management and Swachh Bharath while Dr. Vishwa Kumar Kayargaade spoke about Opportunities and Challenges of Startups. An interaction with Smt. Veena Samartha on entrepreneurship was also held on 2nd day of event. The third day started with the seminar of Dr. Shyam Vasudeva from Forus Health Pvt Ltd, Dr. G N Rao on India's Achievement in science and technology. Along with this the students from more than 66 Fine Arts colleges' showcased 150 paintings and posters which were shortlisted from 250 entries.
The 3 day ended on May 3rd with the inspiring words of His Excellency Sri. Vajubhai R Vala, Hon'ble Governor of Karnataka. He advised the students to focus on Research and academic activity with Nation First attitude. Sri. Arvind Limbavali, MLA and Sri. P C Mohan graced the occasion as guest of Honour. Sri. K N Raghunandan, National Joint Organising Secretary, ABVP, Sri. Srinivas Balli, National Vice-President, ABVP and Sri. Mohan Maghnani, Chairman, New Horizon group of Institution were present. Sri. Gopal Hosur Introduced and Welcomed all the guest.