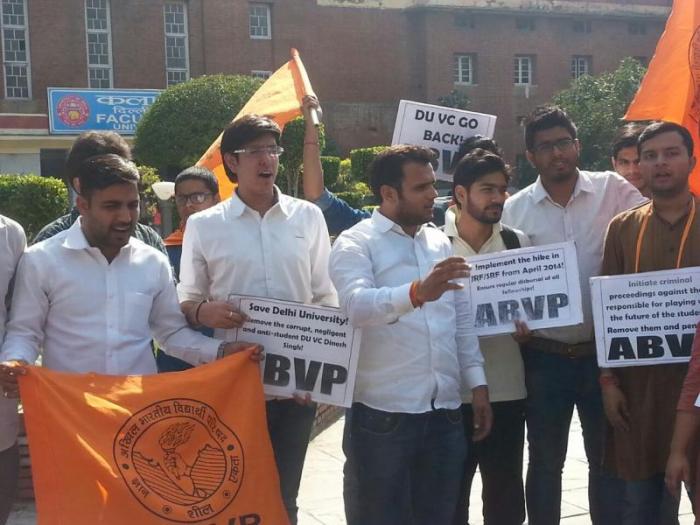 ABVP University unit and Delhi University Students' Union (DUSU) members held a protest at Faculty of Arts on Friday demanding ouster of the Delhi University Vice Chancellor Dinesh Singh. Students shouted slogans in the varsity campus against the VC and demanded his immediate removal. Addressing the students, Saket Bahuguna, Secretary, ABVP Delhi, said, "ABVP and DUSU request to the Union HRD Minister to immediately remove the VC and re-establish democracy and good governance in the University." He added that it is utmost important that those responsible for the mismanagement should not be only removed but also be penalised for their misdeeds. This corrupt and anti-student regime should be replaced at the earliest. During the protest, the students of the university asked when will their 'acche din' begin?
Leaders of ABVP accused the Vice Chancellor for playing with the career of thousands of students by launching the Four Year Undergraduate Programme (FYUP) in 2013, introducing B.Tech courses without clearance from the All India Council for Technical Education (AICTE) and diverting Rs 172 crore from OBC Expansion Grant to buy laptops.
The protest was also addressed by Rohit Chahal, Mohit Nagar, Parvesh Malik, Kanika Shekhawat, Ashutosh Mathur and Sunny Dedha. Demand of immediate removal of the VC has increased after the HRD has issued a show cause notice to him on March 17.