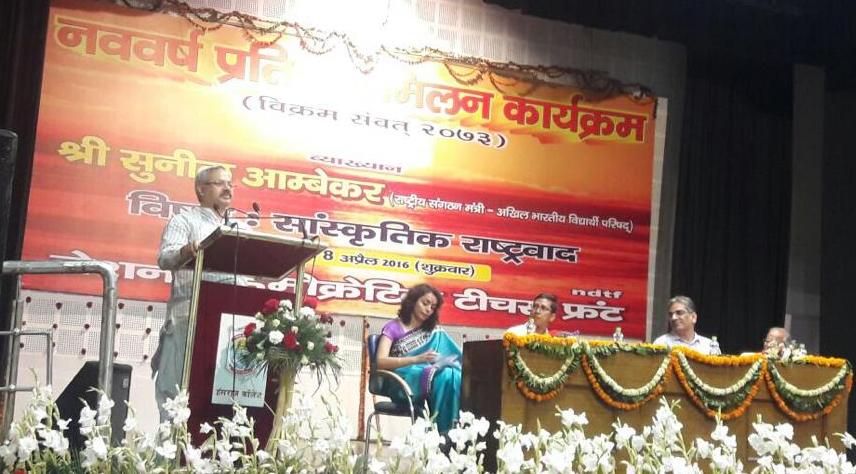 In a programme organized by National Democratic Teachers' Front (NDTF) on the occasion of Indian New Year 2073 on 8th April 2016 at Hansraj College, University of Delhi, Shri Sunil Ambekar, National Organizing Secretary of ABVP, was the Chief Guest and spoke comprehensively on Cultural Nationalism.

Speaking on the occasion in a huge gathering of teachers of Delhi University, Shri Ambekar talked about the questions of Nation and Nationalism which are being discussed these days and differentiated these concepts from the western beliefs. Lauding the progressive nationalism of Chankya, Chandragupta, Vivekanand and Tagore, he elucidated the concept of cultural ethos of our country which believe in accumulation and utilization of the power of knowledge for welfare of the entire world - वसुधैव कुटुम्बकम and the belief in one element - एक तत्व. He said that it is the moral responsibility of the teaching fraternity of the country to give Indian values to the new generation. It is of utmost importance that our young minds are taught about the rich and valiant past of our country.
Talking about the celebration of the 125th Birth Anniversary of Bhimrao Ambedkar, he called upon educationists to contribute in achieving social democracy in the country after the political democracy ensured by constitution. He also emphasized on having full deeper knowledge of concepts like secularism and nationalism and not form any belief on the basis of just western concepts so that many misconceptions could be cleared. He also elucidated that India is a country of maximum youth in the world and they need to be given proper direction so that student power can be converted into nation power.
He was felicitated by Dr. A.K.Bhagi (President, NDTF), Dr. V.S. Negi (General Secretary, NDTF), DU Academic Council member Dr. Geeta Bhatt and senior NDTF leader Dr. N.K. Kakkar.