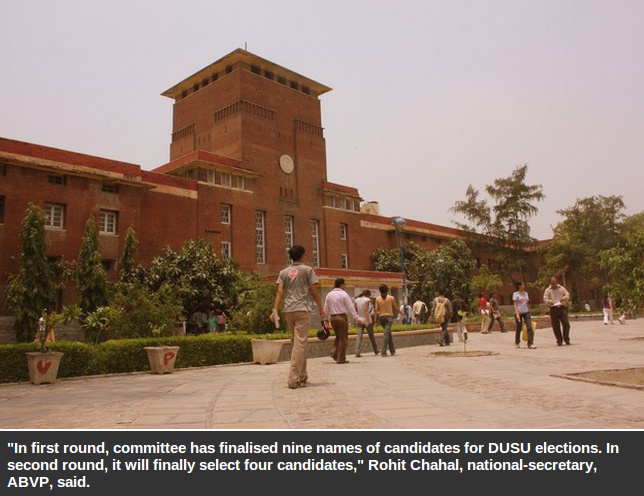 New Delhi: Ahead of Delhi University Students' Union elections, We on Monday formed a seven-member selection committee to finalise the names of candidates for DUSU elections.
DUSU elections will be held on September 12. The team comprises Manu Kataria (State-President Delhi), Saket Bahuguna (Delhi State-Secretary), Rohit Chahal (National-Secretary), Aman Awana (President, DUSU), Ajay Thakur (Organizing state-secretary), Bhupender Gothwal (State Vice-president) and Rajneesh Jindal (Zonal In-charge).
In first round, committee has finalised nine names of candidates for DUSU elections. In second round, it will finally select four candidates, From Tuesday, ABVP will launch pre-elections campaign under which possible candidates have been divided into four groups which will campaign in several colleges of Delhi University. With the issues of FYUP, girl safety in colleges, we will go among students. Besides, we will also tell students that Congress-led Government has not opened any new college in the last 17 years. As per elections schedule, September 3 is the last date for filing of nomination papers while candiates can withdraw their names till September 5.