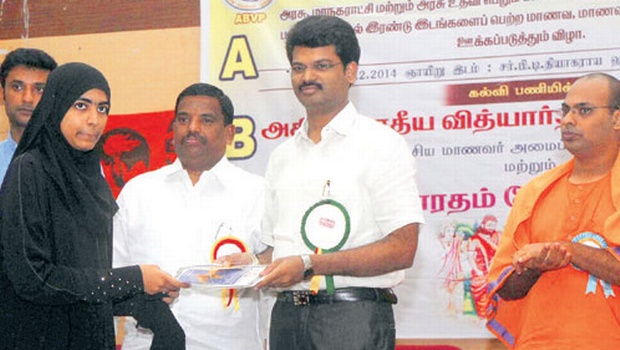 CHENNAI: Toppers from Government Schools, Corporation Schools and aided schools were given special awards instituted by the Akhil Bharatiya Vidyarthi Parishad (ABVP) and Elaya Bharatam Seva Trust, on Sunday. Around 300 Class XII students, along with their families, attended the felicitation function held at P T Thiyagaraja Hall in T Nagar.
"Students from government schools should not feel inferior to those from convents or private schools. India has seen many achievers from government schools," said G V Selvam, vice-president, VIT University, who was the chief guest of the occasion.
Stressing the importance of wholesome education, he told students to understand and learn, and not be mere bookworms. G Lakshman, our All India joint organising secretary, who was also a special guest, spoke about students' power in the country. "More than 50 per cent  of IAS officers are from rural backgrounds who underwent education in their mother tongue. As such, all of you can become achievers," he said.
Vinod P Selvam, advocate from Madras High Court, K M Prabhu, retired principal of Government Arts College, Nandanam, and Swami BakthiVaradhanandha from Ramakrishna Mission felicitated the meritorious students.