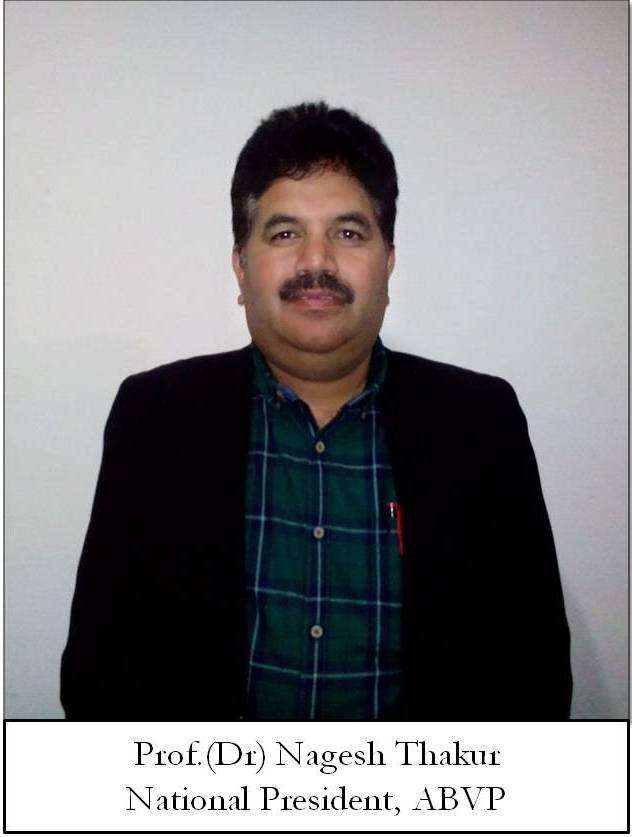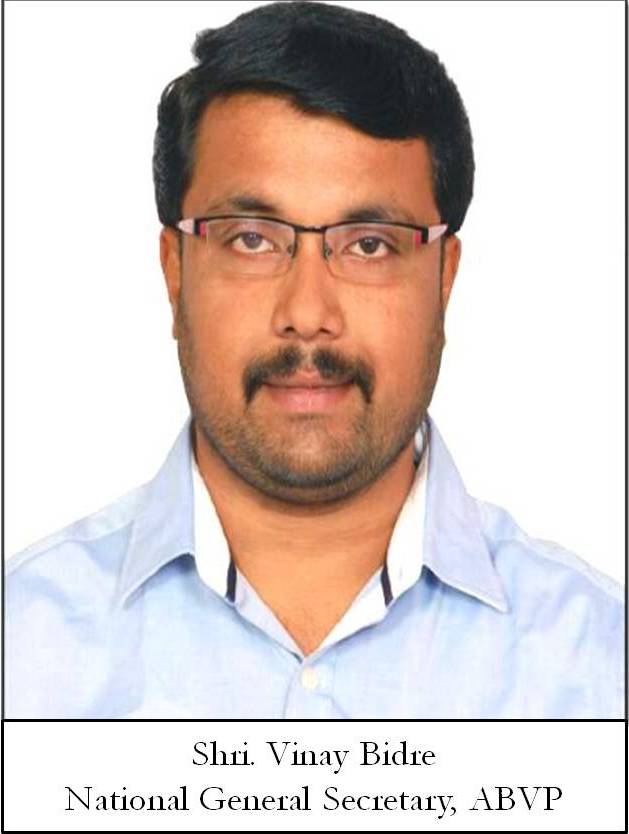 Dr. Nagesh Thakur (Shimla) and Vinay Bidre (Bangaluru) elected unanimously as National President and General Secretary respectively of ABVP, the Premier student organization of the nation for the Session 2015-16.
This is announced today by election officer Dr. Chaganbhai Patel at ABVP Central office, Mumbai. The term of both the newly elected office bearers will be for one year. They will take charge of their responsibilities in Rashtriya Parishad (61th National Conference) of ABVP scheduled to begin from 26th Nov., 2015 at Bhuwaneshwar (Odisha).
Dr. Nagesh Thakur basically belongs to Joginder Nagar in Mandi district of Himachal Pradesh. Since his student life, he played a decisive role in student movement. After completing PhD in physics from Himachal University, He is now working as professor there. He has deep understanding on various educational issues. Besides, this he is resourcefull over issues like Tibet, terrorism in Kashmir and Punjab, moral values & ethics among youth etc. he emerged as an ideologue in the hilly state Himachal by successfully defeating leftist movement through nationalist student movement. Under his guidence HP ABVP has set new standards in working method (Karya paddhati) & developing good workers. As a professor he is active in the field of research too. his research works in the field of physics have been published in 85 international journals. In your early life in ABVP, he had several responsibilities from university level to state level. he was elected as state president of Himachal Pradesh. & was also nominated as National vice president from 2004- 2007. He has been re-elected as National President for this session (2015-16).
Vinay Bidre hails from Bidre village of the Tumkur district of Karnataka province and has been in contact with ABVP since 1998 from his student days. He has completed his education in Diploma in Mechanical Engineering and in Journalism . In the past, he has served as the President of the students' union of Tumkur College and has also served as Karnataka's State Secretary and National Secretary of ABVP. He has successfully led several social and educational movements. He has played an important role in resolving many educational problems of students in Karnataka. From the movement against anomalies in the competitive exams organized for professional courses, to a serious study of the problems of tribal hostels, he has successfully led various student movements. He has also visited China as a member in the delegation of the Youth and Sports' ministry, Government of India in 2014. Presently you are handling in the Organisational matters of Karnataka and Telengana as Joint Zonal Organising Secretary. He has been newly elected as National General Secretary for this session (2015-16).