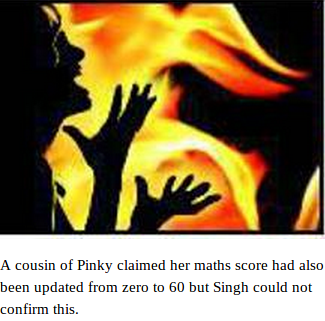 Pinky Singh, a Bsc student in Government Girls College, Gurgaon who tried to immolate herself on Monday against the gross carelessness of the college authorities who awarded her a bizarrely low 0 marks she received in the exams. She suffered 60% burn injuries and is being treated at Safdarjung Hospital.
Though the principal and the teachers responsible for this have been transferred, it is too small a punishment for the magnitude of their carelessness. We urge the honorable HRD minister Smriti Irani ji, to look into the matter and take stern action against those responsible.
Gyanendra Singh, principal of Government Girls College said the marks have been raised to 60 from 0 and the same has been updated on the website. She was awarded 0 in Maths but there has been no conformation of correction in marks unlike in Physics.
We have sent a letter to the Prime Minister and National Human Rights Commission in this regard and are hopeful of a positive response.