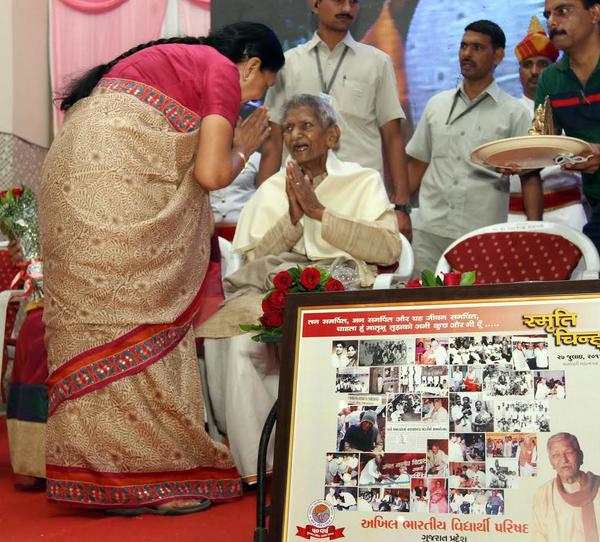 We  felicitated one of the ABVP, founders in Gujarat Shri Narayan Bhandari(Nana) in Ahmedabad on 27th July in presnce of ABVP's present and past cadre, Governor, Chief Minister and RSS Sar Sah Karyavah Shri Dattatreya Hosabale among others.
Born in Maharashtra, Shri Narayanrao Bhandari worked with then RSS head Guruji and later went to jail protesting ban on RSS after Mahatma Gandhi assassination. He also was in jail for 11 months during emergency. Shri Bhandari remembered how he started activities of ABVP in Gujarat with couple of karyakartas including one Chhatrapati who was present in today's function.
Shri Bhandari said: Chhatrapati was so active, that we could send him to Sabramati and then to Maninagar for ABVP's organizational work on bicycle, but when assigned him a table work, he was not able to draft a piece of paper. So we created two divisions of ABVP – one for bicycle work and other, table work.
Bhandari at the age of 89 said he would like to go out even today to work for the organization. He said in initial days, the ABVP in Gujarat was like 'Hun Bavo ane Mangaldas'(one two and three people hardly).
He remembered how Atal Bihari Vajpayee, Lakshmanrao Inamdar etc were once the part of ABVP. The ABVP offered Rs. 25 lakh to Shri Bhandari which Shri Bhandari returned back for further development of the organization.
Chief Minister Anandiben Patel said, Shri Bhandari lives in Memnagar area where she also resides and therefore she knows him for last many years. She said she has seen Shri Bhandari riding bicycle for Sangha work. She said in earlier years there were no mobile, roads, electricity, but nowadays there are all facilities, and therefore the organization has opportunity to grow even further.
Speaking on the occassion, RSS Sar Sah Karyavah Shri Dattatreya Hosabale said Shri Bhandari is not just a pride possession of Gujarat unit of ABVP, he in fact belongs to the nation.
Governor OP Kohli who has been associated with ABVP in the past pointed out that ABVP has completed 50 years of its foundation. Shri Bhandari left home in 1948 and started Sangh work from 1950 as pracharak at Vadnagar.
Official Release:
Gujarat Governor Shri Om Prakash Kohli today said that the life of Shri Narayanrao Bhandari is an invaluable asset for us as he had made service as main objective of life. His life will also provide us a guidance in-person. The governor had honoured Shri Bhandari at the function organized here by the Gujarat State Unit of Akhil Bharatiya Vidhyarthi Parishad to celebrate its Golden Jubilee in the State.
Speaking on the occasion, Mr. Kohli said, the honouring of Shri Bhandari by the ABVP at its Gold Jubilee celebration was a timely and appropriate. Honouring Shri Bhandariji was making us pride and pleasuring us. The Governor said, "I have had a long association with the ABVP. And I am feeling proud in honouring Shri Bhandariji in my first public function (as a Governor).
He said, "Narayanrao Bhandari had made service as his life mantra. He had left his home in 1948 to fulfill his objective. For the student fraternity, Shri Narayanrao Bhandariji was an ideal teacher and true guide. He was a source of inspiration for them."
Speaking on the occasion, Gujarat's Chief Minister Smt. Anandiben Patel called on the student fraternity to make the nation strong to set it on the top in the world in the 21st Century. She further urged them that the student youth power should enhance their boundaries of activities for maximum contributions in the nation building. On the occasion, Smt. Patel had honoured Shri Narayanrao Bhandari, who had begun ABVP in Gujarat and former national chairman of the ABVP.
The Chief Minister had recalled and narrated many inspiring and guiding incidents that had happened in 89-years long life of Shri Bhandariji. She had praised the contribution made by Shri Bhandariji in growth and development of the ABVP in Gujarat.
The Chief Minister had also expressed greeting of a long and healthy life for Shri Bhandarji. He was honoured with certification, shawl and a cheque of Rs 25-lakh, which had donated to the ABVP for works of the students.