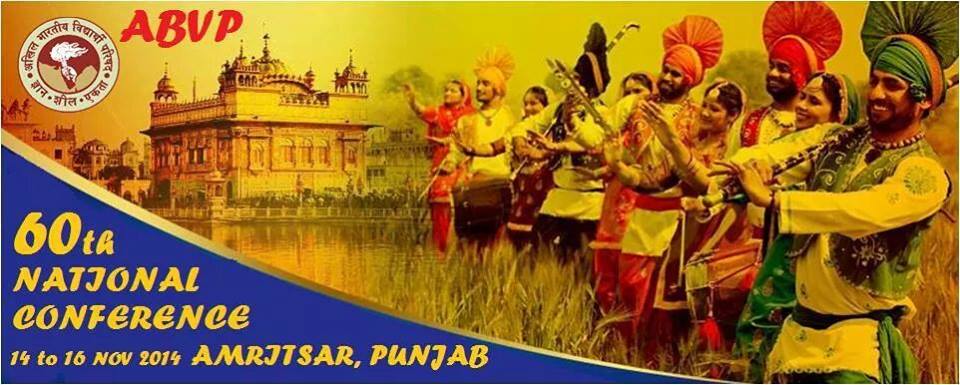 Delegates have started arriving in the holy city for participating in the three-day 60th annual national convention of the Akhil Bharatiya Vidyarthi Parishad (ABVP), commencing on November 14.
The venue of the event is the Ranjit Avenue exhibition ground, which has been named Maharaja Ranjit Singh Nagar. ABVP national president, Prof P Murli Manohar, along with general secretary R Borikar and other senior ABVP members on Wednesday reviewed the arrangements for the convention and expressed satisfaction. Punjab ABVP chief Krishan Gopal was also present along with his team.
Addressing the media at the convention venue, Murli Manohar said that as this event is being held in Punjab, it has been decided that its theme will be drug addiction. This menace which is sweeping through the state will be discussed threadbare during the convention and solutions will be offered. "The youth is the future of this country, so there is a dire need that we get together to save our youth from the menace of drugs. This is not a political issue but a problem afflicting our society, so it becomes the duty of all to come forward to tackle it", said our National President.
He said that the convention will be inaugurated on November 14 by Brig KS Chandpuri (retd), Mahavir Chakra winner and a hero of the 1971 war with Pakistan.
He said that around 3000 delegates from all over the country are expected to attend the convention. During the three-day event, the election of the national president and general secretary will also take place.
On November 15 a 'shobha yatra' will be held through the holy city where in all our activists will participate. HRD minister Smt. Smriti Irani will be the chief guest on the concluding day and she will present the Prof Yashwant Rao Kelkar Puruskar to Arunima Sinha, the first disabled woman climber to conquer Mount Everest.
Murli Manohar said that a couple of resolutions will also be passed during the conference. One of these would be on drug addiction in Punjab and another on privatisation and commericalisation of education. "We will lay a lot of stress on education which is gradually moving out of the reach of the poorer sections of society. We have to have affordable education in our country", he said.   
Asked whether there will be any discussion on political issues by Media the he said that the convention will limit itself to discussing student politics and the need for holding elections in colleges and universities across the country.