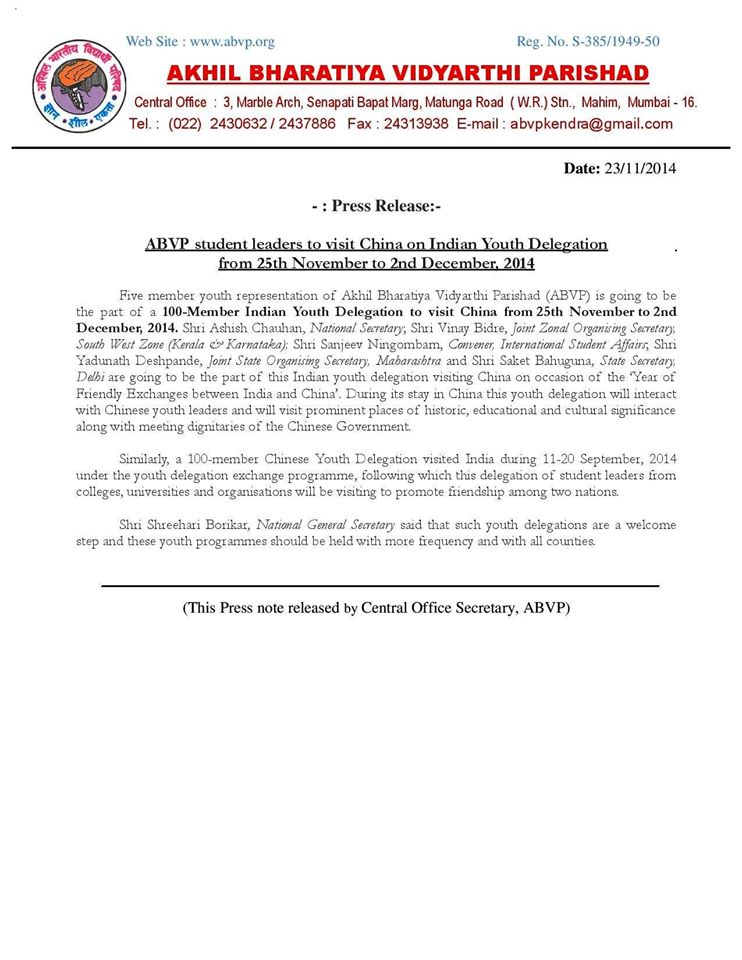 Five member youth representation of Akhil Bharatiya Vidyarthi Parishad (ABVP) is going to be the part of a 100-Member Indian Youth Delegation to visit China from 25th November to 2nd December, 2014. Shri Ashish Chauhan, National Secretary; Shri Vinay Bidre, Joint Zonal Organising Secretary, South West Zone (Kerala & Karnataka); Shri Sanjeev Ningombam, Convener, International Student Affairs; Shri Yadunath Deshpande, Joint State Organising Secretary, Maharashtra and Shri Saket Bahuguna, State Secretary, Delhi are going to be the part of this Indian youth delegation visiting China on occasion of the 'Year of Friendly Exchanges between India and China'. During its stay in China this youth delegation will interact with Chinese youth leaders and will visit prominent places of historic, educational and cultural significance along with meeting dignitaries of the Chinese Government.
Similarly, a 100-member Chinese Youth Delegation visited India during 11-20 September, 2014 under the youth delegation exchange programme, following which this delegation of student leaders from colleges, universities and organisations will be visiting to promote friendship among two nations.
Shri Shreehari Borikar, National General Secretary said that such youth delegations are a welcome step and these youth programmes should be held with more frequency and with all counties.