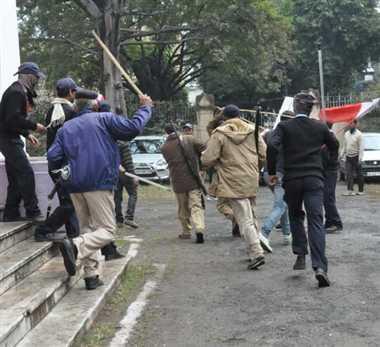 Police fired several rounds in air and lathicharged protesting ABVP workers who tried to reach state Assembly to protest deterioration in education system in the state. Several persons have been injured in the lathicharge and stone pelting between protesters and policemen at R-block,near the Assembly. The peaceful protest led by our National General secretary Shrrhari Borikar, National General Secretary Nikhil Ranjan and other senior student leaders. our workers were taking out "Vidhan sabha march" from Gandhi Maidan to Assembly to protest deterioration of education system in Bihar.  
More than 80 students are arrested and more than 3 are injuried which includes our National General secretary Nikhil Ranjan. Even some Media persons are injuried in the incident.
"We strongly condemn this attack on students and student leaders  by the state government who were seeking justice. It is right of every student in the state to get the basic infrastructure and quality education" said Shreehari Borikar, National General Secretary, ABVP addressing the media in patna.The protesters raised their voice against the corruption in the education system in bihar under the present government and demanded the state government to give the proper infrastructure to the colleges in the state.