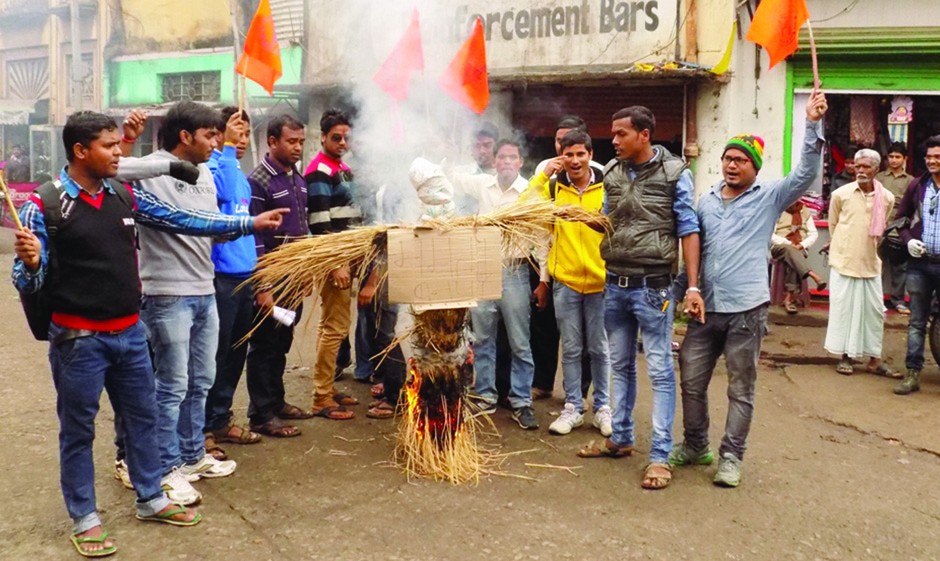 Jammu Tawi, March 9:
Condemning the pro Pakistan remarks of Mufti Mohammad Sayeed and release of Masrat Alam, Jammu University unit of ABVP held a strong protest in Jammu University yesterday. A large number of Jammu University students led by ABVP Jammu University president Sandeep Sharma gathered and raised slogans. 
Addressing the students, Sandeep Sharma cautioned the state government to restrain from taking anti national decisions and warned that in case such anti-national decisions continue to be taken by the government , the protest will be intensified. An effigy of Mufti Mohammad Sayeed and Masrat Aslam was also burnt by the students amid slogans and against the Rehabilitation Policy of Militants recently 
introduced by PDP lead government.
Large number of ABVP Activist join and Protest and burn effigy of Mastram Alam and Mufti Mohd Sayeed. Sandeep Sharma, ABVP President lead the protest. He added that this is third consecutive statement of PDP since government formation. Others are present are Madhu Shama, General Secretary, Guneet Sharma, Kanav, Rakesh, Jang Bahadur, Vikas, Sunil, Asha and Saksham. At the last our activists warned the state govt. to refrain from indulging in and allowing such antinational acts and stated that the ABVP will continue to restrict and protest any move of the government which is against the national security and integrity.